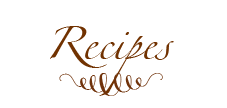 Spices are one of the most remarkable ingredients of Indian cuisine. Without them, Indian food would be as ordinary as the others. Spices and herbs are also one of the reasons why Indian food is becoming popular to people across the globe.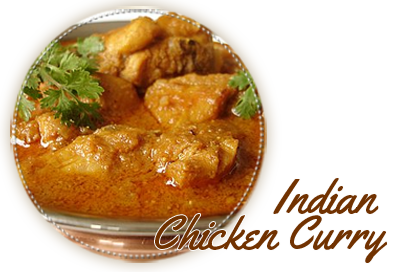 This is Indian comfort food at its best – a warm, spicy bowl of chicken drowning in a rich and flavorful brown gravy served over a bowl of steaming white rice. Curry is often associated with Indian cooking and is usually understood to mean "gravy" or "sauce" rather than "spices". Curry's popularity in recent decades has spread outward from the Indian subcontinent to figure prominently in international cuisine. Consequently, each culture has adopted spices in its indigenous cooking to suit its own unique tastes and cultural sensibilities. Yet even with its acceptance worldwide, this dish spells home to many Indians.

Prep: 20 min. | Cooking: 60 min.
Serves: 6 | Grade: Moderate




INGREDIENTS
» 10 pieces chicken, leg or thigh meat
» 3 large tomatoes
» 2 large onions
» 8 garlic cloves
» 2 inch pieces ginger root, finely chopped
» 1/3 cup oil
» 1/2 teaspoon red chili powder
» 3/4 tablespoon coriander powder
» 3/4 teaspoon turmeric powder
» 1/2 teaspoon salt (to taste)
» 1 teaspoon garam masala
Method for Preparation
1. Skin and wash the chicken (legs or thigh pieces), making two diagonal gashes on each piece.
2. Grind the onion, garlic, and ginger to a paste using the food processor.
3. Coarsely chop and grind the tomatoes as well (separately from the onion/garlic/ginger mix above).
4. Heat oil in a heavy bottomed pot and add the onion paste until the onions turn golden brown in color.
5. Add in all the spices (except for ½ teaspoon of the garam masala) to the onions and fry the spices for about two minutes.
6. Add the ground tomatoes and cook until the spice mixture is left with a little bit of oil.
7. Cook the chicken pieces with the tomatoes and spices for about 15 min on a low flame stirring often.
8. Add the garam masala at this time. Add a cup of water and simmer the curry for 20 min on slow fire.
9. Cover the pot and simmer for another 20 min.
10. Check if the chicken is done. If the curry is too watery, then cook on high flame to let the excess water evaporate.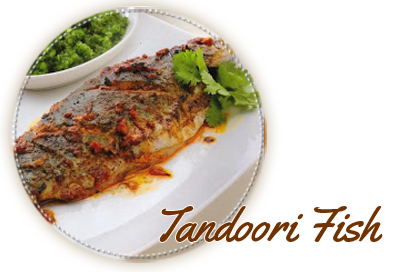 This is absolutely incredible. I got this recipe from Nita's husband when he returned from a trip to India. I decided to try it with fresh fish. What's great about this dish it has fabulous flavors but it is not spicy hot. I served it to the dance troupe before we did a performance. If you can, use fresh fish instead of frozen if at all possible. Asian and ethnic grocery stores have large fish tanks with a good assortment of live fish to choose from. Have your local fishmonger scale and clean the fish for you.

Prep: 20 min. | Cooking: 60 min.
Serves: 6 | Grade: Moderate






INGREDIENTS
» 2 whole fishes (cleaned) trout, sea bass or tilapia
» 2 inches of fresh ginger root (peeled and minced)
» 10 cloves of garlic (minced)
» 3 tblsp olive or canola oil
» 1/2 lime (juiced)
» 3 tblsp tomato puree
» 1 tblsp paprika
» 1 tblsp chili powder
» 1/2 tsp ground cumin
» 1/2 tsp ground tumeric
» salt and pepper
Method for Preparation
1. Cut diagonal slits on each side of the fish. Make sure you cut deep enough to expose the meat, but not all the way through the bones.
2. Place fishes in a glass or ceramic plate. Place the remaining ingredients in a bowl and mix until it creates a paste. Rub the paste all over the outside of fish on both sides. Make sure some of the paste get between the diagonal cuts.
3. Rub some of the paste inside the cavity of the fish. Use all the paste. Cover the fish with plastic wrap and refrigerate for 30 minutes to marinade.
4. Set oven to broil and preheat in low. Cover a baking dish or deep tray with foil. Place fish in the foil covered dish and broil in the oven uncovered.
5. Broil one side for approximately 8 minutes. Turn fish over and broil the other side for another 8 minutes.
6. Increase the setting to medium or high to allow the skin to crisp. Watch carefully so as not to burn for appoximately 4 minutes; flip fish and do the same on the other side.
7. Remove from the oven and serve with basmati rice and Tomato, Onion and Chilli salad.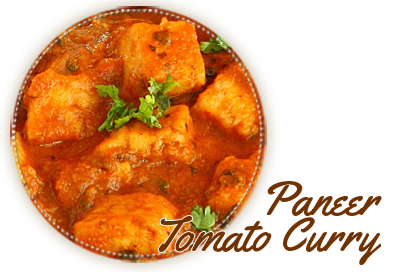 Variations:
You can add peas (mattar) along with paneer to make Mattar Paneer. Deep fry cubes of potatoes (Aloo) and add along with paneer to the gravy to make Aloo Paneer. You can also add pieces of capsicum to the gravy along with paneer.


INGREDIENTS
» Paneer / Cottage Cheese – 250 gm
» Onion – 1 big
» Ginger – 2 x I" piece
» Garlic – 4 cloves
» Green Chilly -2
» Tomatoes – 2, medium, chopped fine
» Tomato ketchup -1 tbsp
» Chilly Powder – 1 1/2 to 2 tsp
» Turmeric powder- 1/2 tsp
» Salt to taste, Oil as needed
» Coriander leaves - 2 tbsp, chopped
» Cinnamon powder – ½ - ¾ tsp
Method for Preparation
1. Cut paneer in to 1" cubes.
2. Grind together onion, ginger, garlic and green chilly to a smooth paste and keep aside.
3. Heat little oil in a non stick pan and lightly shallow fry paneer, drain and keep aside.
4. Into this pan add ground onion mixture and sauté till golden brown.
5. Add chilly powder and turmeric powder and sauté, then add chopped tomatoes and sauté till oil separates.
6. Add tomato ketchup, salt and two cups of boiling water.
7. When the mixture starts boiling add fried paneer pieces and cook till the gravy becomes thick.
8. Finally add cinnamon powder and coriander leaves, stir well and remove from fire.
9. Serve hot with Indian breads or rice.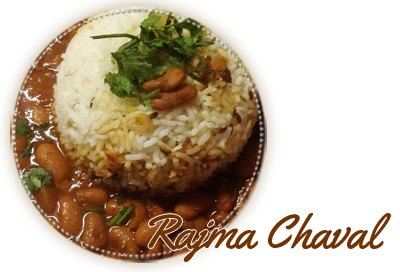 India is a land of diversities, which is well portrayed in its culture and cuisine. A land where taste changes at every 100 kms. Hence, it has a wide spectrum of food. Here we bring you an authentic Rajma Recipe from India that's not only quick but, can be easily made at home. The Rajma recipe we listed below is most basic of Indian recipes also one of the tastiest! Trying this Rajma recipe at home is an easy way to get a delicious meal.







INGREDIENTS
» 2 cans red kidney beans, drained and rinsed under running water
» 2 tbsp vegetable/canola/sunflower cooking oil
» 1 tsp cumin seeds
» 2 medium-sized onions chopped fine
» 2″piece of ginger julienne
» 6 cloves of garlic minced
» 2 large tomatoes chopped into 1″ cubes
» 2 fresh green chillies chopped fine
» 2 tsp coriander powder
» 1 tsp cumin powder
» 1 tsp garam masala
» 1/4 tsp turmeric powder
» Salt to taste
» A pinch of asafetida
» Chopped coriander to garnish
Method for Preparation
1. Heat the oil in a deep pan and add the cumin seeds. When they stop sizzling, add the onion and fry till soft.
2. Add the ginger and garlic and fry for 2 minutes.
3. Add the green chillies, tomatoes, coriander, cumin, turmeric and garam masala powders and fry till the oil separates from the masala.
4. Add the red kidney beans, 4 cups of warm water, asafetida, salt to taste and cook till beans are very soft (approximately 10 minutes).
5. Mash some of the beans roughly (this thickens the gravy).
6. Garnish with coriander and serve piping hot with plain boiled rice and Kachumbar salad and a pickle of your choice.